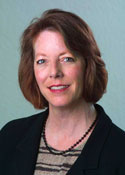 Lauryn Agnew has been in the financial services business for over 20 years. She began her investment management career with Smith Barney and Lehman Brothers in the 80's. Lauryn moved into the money management business in the late 80's crafting marketing and sales programs, defining target markets, building an extensive rolodex, designing marketing materials and raising assets. In 1994, she launched L.A.B. Consulting, a successful consulting firm with a mission to help money management firms develop and execute customized long-term business and marketing strategies.Lauryn's business played an integral role in forming two specialty money management firms. She has raised hundreds of millions of dollars in new assets under management for former employers and clients. Lauryn has also served on many boards and investment committees for non-profit and public fund investment portfolios.
From 1990 to 1998, Lauryn served as a trustee on the Board of Retirement for the San Mateo County Employees' Retirement Association (SamCERA). During this time, she created a new office for the administration of the retirement fund, recruited the executive director, designed the investment strategies and policies, and monitored the operations. As president of the board and the chairman of the investment committee during this restructuring, she liaised with the county manager and county supervisors, as well as with employee and retiree groups. Over this time the assets of the Retirement fund grew from approximately $400 million to over $1.2 billion. In November of 2009, Lauryn was reappointed by the Board of Supervisors of San Mateo County to serve again on the SamCERA board of trustees.
Lauryn's broad institutional experience includes years of successful fundraising through the institutional investment proposal process, grant writing, communications and public relations through newsletters, press packages and annual summary reports. Lauryn continues to work with several non-profit organizations. Currently, she serves as the Chairperson of the Investment Committee for the United Way of the Bay Area. Lauryn is a former member of the Board of Directors of the Girl Scouts of the Bay Area, and is currently the chairperson of the Investment Committee for the Girl Scouts of Northern California. She also has served on the Board and currently serves on the Finance Committee for the Immaculate Conception Academy of San Francisco. She is a member of the CFA Society of San Francisco and the Financial Women's Association of San Francisco, where her peers named her the Woman of the Year in 1992.
Lauryn has a degree in economics from Whitman College in Walla Walla, Washington and an MBA in Finance from the University of Oregon.